Here at Buildsoft we're focussed on providing you with features and functionality that empower you to transform the way you work.
We've been listening to your needs and have been working hard to deliver you a new level of customisation and greater transparency to your jobs.
We're making estimating brilliantly simplified, with Cubit 8.2.


Improving the way your plans display in your estimate

We've made a number of automatic out-of-the-box improvements to the way Cubit displays PDF plans within your job; helping to ensure your plans are presented clearly and correctly in your viewport, so you can read and interpret them accurately.
Cubit will also now prompt you to refresh your plans as you change settings and apply different options, like Rasterise Text or Ignore Clip Shapes, so you can apply and see the changes of the new settings straight away.

See detailed data with new quantity multipliers and aggregate totals
At Buildsoft, we believe in continual improvement and collaboration, to provide you with the best way to perform your work.
We've received lots of feedback about how you work with your data, and have been working hard to expand our feature set to meet your needs and make calculating quantities and rates even easier.
In Cubit 8.2, we've made a range of new columns available throughout your job to make your work easier and offer greater transparency in building a comprehensive and accurate estimate.
In Cubit Professional, new quantity multipliers are now available. Factor, Conversion, Number and Wastage columns can all be added to your Calculation Sheet, Rate Sheet and Item Sheet. This offers a new level of consistency across your estimate, so you can work with and understand your data in much more detail.
Now you can calculate quantities of complex items, like structural steel, in an easy, logical way; breaking your calculations into individual components, without having to enter a formula to return the results you need.
We've also made new aggregate columns available for your Item Sheet, including Aggregate Rate and Aggregate Quantity. These two columns give you the ability to display new, working totals that are being used for your estimate.
Aggregate Rate applies any markup you've assigned to your rate, so you can see the active rate being used for your calculations. Similarly, Aggregate Quantity applies any multipliers to your quantities, so you can see the working quantities of your items.
These new columns provide you with greater transparency across your estimate, making the purpose and intent of your work clear and allowing you to quickly verify your calculations.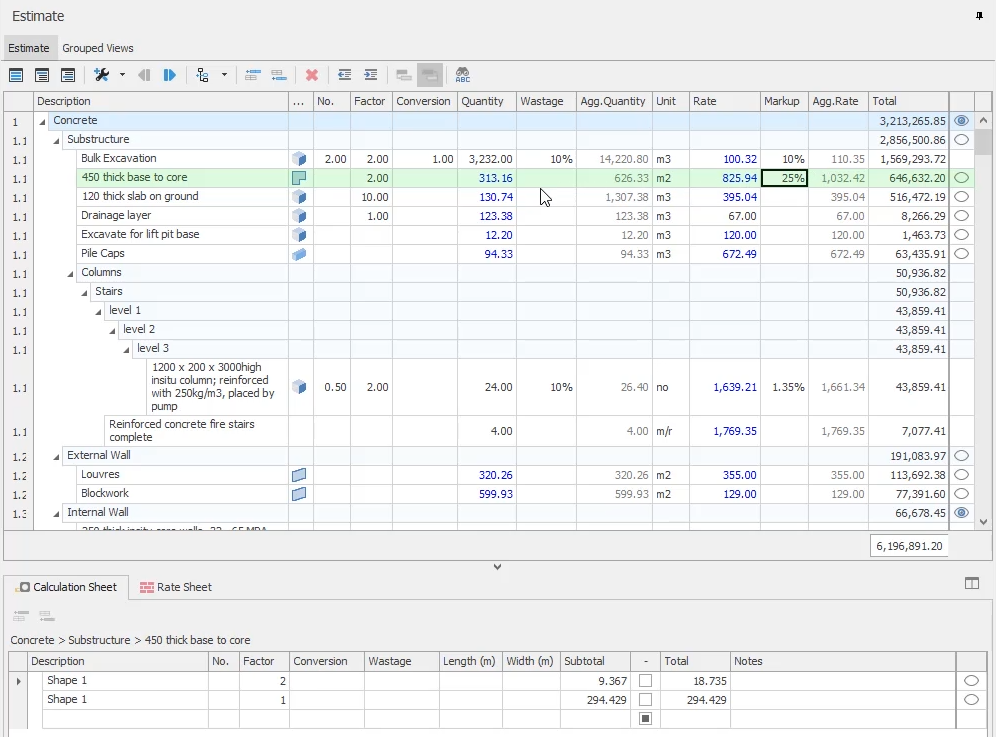 Image: New Multiplier and Aggregate columns shown in a Job.

Stay organised with enhanced note taking
One of our most requested features is having another way to add notes within your job. We've listened and we're excited to be enhancing note taking functionality in Cubit 8.2.
You can now add a note to your Trades, Headings and Items across your estimate.
You can use Notes to add a status to a specific Trade, leave a message on an Item for another user to read, or to make a note for yourself on a Heading that is separate from your description, but remains linked to it.
With Cubit's enhanced note taking functionality you can include more information about your estimate directly within your job, making it easier to account for decisions and develop a more detailed estimate.
Notes can easily be shown or hidden, depending on your need to have them displayed.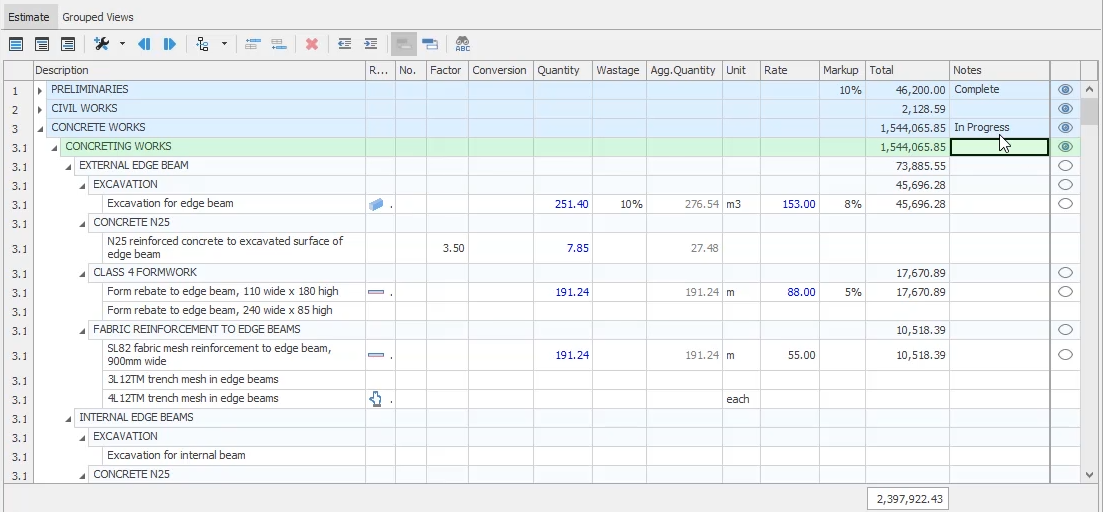 Image: The new Notes column introduced in Cubit 8.2.


Work the way you want with enhanced custom layouts
Setting up your job the way you want is an important part of being comfortable with Cubit, and producing your best work.
In Cubit 8.2, we're offering you a greater level of customisation, by introducing the ability to save columns to your custom layouts.
Custom layouts offer you the ability to tailor the way you want to use Cubit at different stages throughout your estimating, or for different types of jobs.
Now you can choose the columns you want to work with and include them when you save your job in a specific state to return to; so you'll always be able to see the information you want, when you need it.

Bill of Quantity Improvements
We've been listening to your feedback on the way Cubit manages Bill of Quantity reports, and have made some improvements to enhance your experience creating them in Cubit.
We've added formatting styles for fourth and fifth level headings, and long descriptions are now shortened if they were flowing over to another page. We've also improved the way information is displayed by adding the ability to have a space above the footer of the page; and have introduced custom font sizes, so you can further tailor the report to your needs.


Quote with confidence, with new Job Summary with Trade Totals Report
We've added a new Trade Report that can be used to generate a quote for your clients.
The Job Summary with Trade Totals Report offers you a tailored document you can use to provide a simple quote; featuring the high level information that's perfect for providing a preliminary scope of works for a proposed job.
Experience a new level of customisation and enjoy greater transparency throughout your estimating with Cubit 8.2.
Our Product Consultants are ready to provide you with a personalised demonstration to show you how you can improve the way you work with Cubit.
For a full list of new features and enhancements in Cubit 8.2, you can download our release notes here.
If you're a customer with current Software Assurance cover, you can download the latest version of Cubit below. If you would like to update your software but do not have current Software Assurance cover, contact our Customer Success team on (02) 4626 4909.
Client/Standalone
Server