We're proud to announce the release of our most powerful estimating and takeoff solution yet - Cubit 8.

With a focus on speed and efficiency, Cubit 8 is filled with new features and enhancements that have been designed with you in mind. We're taking Natural Estimating further so you can create your most accurate and efficient estimates ever.
Here's what you can expect.


Performance Improvements

We've been working hard on a range of improvements that will make your experience using Cubit even better.
We've increased the speed at which you can perform actions with Item, Rate and Calculation sheets within your Job or Price List, to deliver you a faster and easier system with seamless processes.
You'll find it easier to use a range of functions with:

Copy and paste for 30 items with an estimate up to three times faster, and up to four times faster for 100 items;

Indenting 30 items within a trade up to four times faster, and un-indenting up to eight times faster;

And inserting Trade with 200 items from a template 22 times faster.
These are just some of the improvements you can look forward to in Cubit 8.

BIM Takeoff Module
We're excited to bring you one of our most anticipated features to date. Introducing Cubit's new BIM Takeoff, an additional module you can add on to your Cubit Pro licence.

Working with BIM files has become essential for many building and construction companies, and we're making it easy for you.
With industry-standard IFC file support, you can import your BIM models directly into Cubit; making it a more versatile and more effective system; and the perfect solution for your business.
Your BIM model is displayed in your viewport and is fully interactive, giving you access to more detailed information, greater control over your estimate and the ability to directly interact with your data like never before.
Zoom in and rotate to view your structure from any angle. Hide different objects like walls or ceilings for a clear internal view; and select specific objects or groups of objects for the most focused and unique view of your plans you've ever had.
You can also save specific views of your model in customised states within your viewport as a Snapshot so you can return back without having to manually recreate a view.
With Cubit, you'll perform quantity takeoffs with ease as we introduce Buildsoft's unique Natural Estimating process to your BIM Takeoff.
To extract quantities, select a shape from the model in your viewport and simply drag-and-drop it into your estimate. Map the shape by applying it to a result type and your quantity will be automatically generated. You can also drag a shape from your Shapes Pane.
A common problem with BIM files, is that you can only use the information that has been assigned to specific attributes within the model. This means vital information that you need can't be extracted; leaving you to calculate it manually.
Here's where Cubit makes your work easier.
Cubit can automatically calculate geometric results; so you'll be able to determine complicated volumes, like a concrete staircase, from the geometry of your model, even if that value has not been imbedded in your file.
This advanced function removes the need for you to waste time to manually calculate these results; delivering accurate and precise information for your estimate.
Drag and map additional shapes to generate their quantities and quickly build up your estimate. Because the results are generated directly from your BIM model, you can be confident that your takeoff is accurate and precise according to your plan.
Having your BIM model displayed prominently in your viewport also makes your verification process easier, giving you a 3-dimensional view of your structure so you can check if there are any elements missing from your model.
With Cubit's BIM Takeoff, you'll engage with your data like never before, return the most detailed information from your takeoffs and create your most accurate and efficient estimates.
Click here to find out more about Cubit's new BIM Takeoff.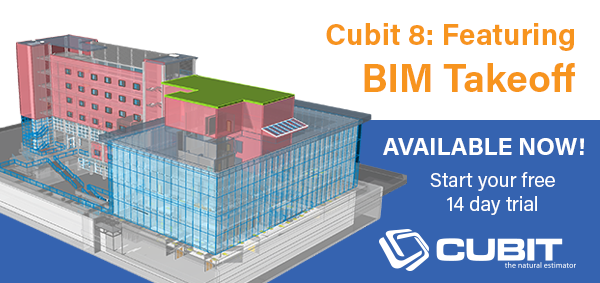 Dynamic Grouped Views
We've enhanced grouping within Cubit to provide a new, more effective and efficient way to view and sort your jobs; and give you greater control over your job analysis.

Now you can re-sort a job using rate codes from within that job.
This means you can work in just one job, with no need to duplicate your work, and no need to jump between versions. You'll always be working on the most up to date version of your data, making the estimating process faster and easier.
Our Global Estimating customers will find this similar to On-Screen Analysis.
Multiple, dynamic grouped views can be created from the estimate pane. Choose between Estimate view - perfect for when you're building up your job; or Grouped Views - which is the ideal solution to sort and reorganise your data in multiple ways.
Using Grouped Views, you'll be able to see costs and quantities of specific items. Your data is automatically updated in real-time throughout your estimate, so when you make a change, you'll see that change instantly reflected in your Grouped Views.
You can also easily generate a report or export your data to Excel based on a particular view; giving you an added level of flexibility and control over your information.
Cubit 8's enhanced grouping prepares you for integration with Bartender: our next generation subcontractor comparison system.
You'll be ready to experience the seamless integration of Cubit's Natural Estimating with Bartender's powerful cost comparison; so you can produce detailed, fast and accurate estimates, in a single job.

Bill of Quantity Improvements
We've enhanced the way Cubit generates a Bill of Quantities through user feedback and comments we've received.
Cubit's Bill of Quantities delivers you the results you expect. Through greater functionality and customisation, you now have the ability to include even more information in your report.
You can now show the factor column; and add the Job Description from the Job Manager to the header of your report; allowing you to have the information you want, where you need it.
We've also improved the way some of your detailed information appears within the report, making your information clearer and giving you the confidence of supplying even more professional-looking reports.

New Trade Package Reports
We've added the ability to report on multiple trades packages at once, saving you the time and hassle of having to manually generate a report for each individual trade.
Simply select the trades that you'd like to report on, then choose the report template you want to use; and Cubit will generate your reports, with a different file for each trade.
This new feature gives you increased flexibility and control over your data. With just a few clicks, you can quickly and easily produce clear, concise and specific information on multiple trades; perfect for supplying to your subcontractors.


Client Manager Improvments
We've improved Cubit's Client Manager, so you can add more detail to your job.
You can now add a phone number for a company, as well as apply a code if you'd like to detail an ABN or a customer code.


Shapes
We've made further improvements to the way you work with Windows and Doors, with the addition of Opening Span. Now you can set the width of your window or door opening so it affects multiple shapes at once.
This provides you with a more accurate reflection of your plan, so that you can ensure you've taken off the correct quantities; and gives you the ability to produce an even more accurate estimate.


Imperial Features
For our customers in the United States and Myanmar, we've improved the way Cubit works with Imperial measurements.
Now the default units for a job using Imperial will have length showing as feet (ft), area showing as square feet (sf), and volume showing as cubic yards (cy).


Cubit 8 helps take your estimating to the next level, with added features and enhancements designed specifically with you in mind, so you can deliver quick and efficient estimates time and time again.
Start your free 14 day free trial today, and experience the benefits of faster and more accurate estimating with Cubit.

For a full list of features and improvements included in Cubit 8, you can download the Release Notes here.
If you're a customer with current Software Assurance cover, we'll be sending your update over the next two weeks.